TrueAV Standard Link HDMI Coppper based series with Ultral long length Cable
** 그 어떤 HDMI 소스기기와 디스플레이에서도 완벽한 1080P의 FULL HD해상도를 보장받고자 한다면 TrueAV High Speed HDMI Cable시리즈를 선택하세요.
본 제품은 신호레벨이 약한 일부 기기에서 최대해상도가 1080i 로 제한될 수 도 있습니다. **
Copper based cables with max lengths of 25m. The HDMI CL2 cables support the following resolutions: 480i, 480p, 720p, 1080i, 1080p.
These cables are rated for in-wall installations.
HDMI is a much smaller and user-friendly connector than the DVI connector. The specification handles high-bandwidth, uncompressed video and multi-channel digital audio as well, all in one cable.
High-Definition Multimedia Interface (HDMI) is the first industry-supported, UNCOMPRESSED audio/video interface. This cable connects HDMI devices for DVD, satellite boxes, LCD, projectors, plasma and HDTVs. HDMI provides an interface between any HDMI-enabled audio/video source, such as a set-top box, DVD player, and A/V receiver and an audio and/or video monitor or projector.

HDMI supports standard, enhanced, or high-definition video, plus multi-channel digital audio on a single cable. It transmits all ATSC HDTV standards and supports 8-channel digital audio, with bandwidth to spare to accommodate future enhancements and requirements.

TrueAV High Speed HDMI Coppper based series


Conductor is composed by 28-24AWG Tinned copper
Gold plated contact
Twins shielding for rejection RF & EMI
Outer mesh providing extra protection and fricative
Embossed HDMI logo outer connector
Features...
New Release - support HDMI 1.3 (Category 2 - 1080p)
Fully support 1080p
100% Digital - No compression, no conversion
Pure digital picture and sound direct from the source
All your HD video and audio in one cable
Replace up to 8 audio and 5 video cables
Type A connector (19 positions) carries a single TMDS link and is permitted to carry signals up to 165Mpixels/sec.
3.3 Gigabits/second of bandwidth to support video and multi-channel audio in a single cable
Bandwidth to spare for HDTV - 1080p capable and beyond and over two times 1080i bandwidth
Backwards compatible with DVI and DVI-HDTV
Uses HDCP for content protection, allowing access to high-value programming
All current HDMI products support 480p, 1080i and 720p, even 1080p
Specification...
Available Production Lengths: 0.5m, 1m, 2m,3m, 5m, 10m, 15m, 20m, 25m
100% open and short test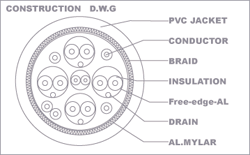 Conductor resistance: 5 Ohm (max.)
Contact Resistance: 30m Ohm (max)
Insulation resistance: 10M Ohm/DC300V at 0.01sec
Differential mode impedance: 100+/-15 Ohm, assembly, 100+/-10 Ohm, cable
Signal pairs attenuation:
=< 8 dB, 300 KHz to 825 MHz
=< 21 dB, 825 MHz to 2.475 GHz
=< 30 dB, 2.475 GHz to 4.125 GHz
Intra-pair skew: < 151 ps
Differential mode FEXT: > 26 dB Above testing conditions are available for length less or on 25 meters

TrueAV Advanced for HDMI 1.3 version Performance Capabilities

12-Bit Color**
Smoothest Gradation of Colors
Greater cable capacity for support of 12-bit color, also called Deep Color™, available from advanced HD sources and displays. Greater color depth, from 8-bit to 12-bit, allows more detailed gradations of individual colors for the display of billions of colors.

x.v.Color™***
Extended Color Range
Ideal for advanced HDTVs with xvYCC color, also called x.v.Color. x.v.Color widens the number of available colors for 1.8 times more colors than standard RGB.

Dolby? TrueHD and DTS-HD™
Lossless Surround Sound
Greater cable bandwidth for support of Dolby TrueHD and DTS-HD lossless surround sound, available on Blu-ray Disc™ and HD DVD™ movies.

HDMI-CEC
Automated Audio/Video Control
Support for the HDMI Consumer Electronics Control channel, enabling automated audio/video component setup and control.

120 Hz Display***
Smooth Video™ Refresh Rate
Ideal for HD components with 120 Hz refresh rates, providing smoother, more fluid video reproduction.

HDMI is a data superhighway for digital video and audio. For the best high definition experience, use an HDMI cable that delivers all the picture and sound data your HD components require. Get all your HDMI questions answered at TrueAV.com/HDMI.